Cleanable filter systems for suspended particles
AFC filter systems are electro-pneumatically controlled. High-performance filters for suspended particles during the first filtering stage, and an automatic cleaning system make them stand out. Our filter systems are made of coated or stainless steel. They also come with a surface suitable for manufacturing areas (clean rooms).
The modular structure of the filter systems makes it easy to adapt them to the available space and different volume flows.
In order to meet strict industrial production demands and minimise downtime, system maintenance and filter exchange are possible while the system is operating.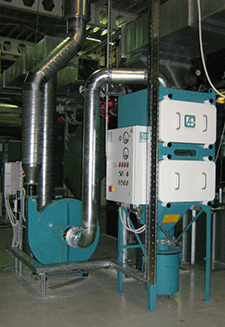 During handover of the filter system, you will receive detailed documentation meeting both your requirements and legal regulations.
To facilitate maintenance, we use readily available components for manufacturing our systems whenever possible.
Thanks to continuous advancements and improvements, our filter systems are among the most effective dust control systems. For you this means a significant reduction in running costs.
In accordance with the requirements for freedom from contamination, we offer matching handling systems and are thus able to achieve containment classifications to OEL 5 (< 0.1mg / m³).